A World Championship
This July, sixty architects, game designers, craftspeople, tinkerers and city planners will form five international teams and compete in a special World Championship. Some team members are from the Ruhr region, some are from the farthest corners of the world.
International teams will challenge themselves in only 72 hours – three days and nights – to respond to a mission at a local site. Each team will design and build a temporary structure that invites people to come together in play, transforming the city life of Witten.
Each team will be exploring their own variation of "gameful architecture". How can a built environmental structure encourage people to meet and interact ? How can it encourage different play styles and possible games? Should it offer stages or maybe hiding places? Let us feel safe or free? Together or alone? Ecstatic or thoughtful? Let's see what happens when citizens become more than simple users and indulge in play, in public, with each other and the fabric of the city itself.
The teams of 72 Hour Interactions 2014 are: Better Wetter, Hagen Bilder, Hattingen Dragon Slayers, Herdecke Sawhorses, Witten Truffle Pigs. Click here for more info on the teams
The Jury: Nathalie Pozzi (Architect), Eric Zimmerman (Game Designer), Philipp Misselwitz (Urban Planner), Katja Aßmann (Artistic Director Urban Arts Ruhr) and representatives of the Municipality of Witten.
The stakes are high. The fight against Global Boredom is on. Find out how you can be part of the action in Witten: Click here for more info on the public program accompanying the championship.
The Host City: Witten
In Janurary 2014, we asked you to help us find just the right place for the championship! A street somewhere in Hagen, Hattingen, Herdecke, Wetter or Witten. A street with people from a broad range of backgrounds ready to take things into their own hands – and open to collaborate with people from the four other cities as well as from all around the world. A street with a wide range of atmospheres. A street facing various challenges. A street where we can create a camp for 50 international participants with enough space to work, play, cook and celebrate!
We received great suggestions from all 5 cities. Thank you for your ideas! In February, the jury reviewed the suggetions and research results. In a close call, it was decided that Witten will host the Championship!
The partners
72 Hour Urban Action is the world's first real-time architecture competition, where 10 international teams have 3 days and 3 nights to design and build projects in public space in response to local needs. The teams design, build, sleep and party on site to generate interventions in public space within an extreme deadline, a tight budget and limited space. 72 Hour Urban Action invites professionals and residents to become active agents of change, from the bottom-up, and to leave a lasting impact on the urban landscape.
The first 72 Hour Urban Action competition took place in September 2010 as part of the Bat-Yam Biennale Landscape Urbanism. The Bat-Yam Biennale is a unique civic action model that encourages activist action in public space in collaboration with the local authorities.
72 HUA seeks ways to provide space for experimentation in public space, to involve alternative players in the creative process of urban design and to bridge the gap between planning and construction.

For more information on 72 Hour Urban Action click here.
Invisible Playground is a collective of Berlin-based artists, game designers and academics. Formed in 2009, Invisible Playground creates site-specific games of various sizes and formats with a consistent theme of cultivating a new understanding of cities and society. Drawing from diverse influences ranging from experimental theater and performance art to pop fiction, sports, board and video games, the collective develops playful experiences that grant participants entry onto the invisible playgrounds they walk across every day without noticing. Next to the creation of games, workshops and playtesting events, Invisible Playground curates the Playpublik Festival. Invisible Playground have appeared by invitation at theatres, art spaces and festivals across Europe and beyond.

For more information on Invisible Playground click here.
Urbane Künste Ruhr is the new art organization in the cultural metropolis Ruhr. Based on the unique urban landscape of the Ruhr Area, Urbane Künste Ruhr together with artists, networks, and cultural institutions investigates the core of urbanity. Under the artistic direction of Katja Aßmann, Urbane Künste Ruhr develops and realizes projects that define the design of cities in a new way – always on-site and together with the people living here. Urbane Künste Ruhr risks a new perspective on the Ruhr Area, the city in general, and the possibilities of art.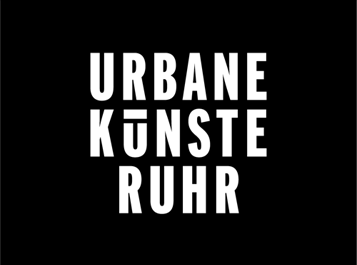 For more information on Urbane Künste Ruhr click here.